Click here for the PF Lyceum Site Index
Click here for Previous Blog
Click here for Complete Blog List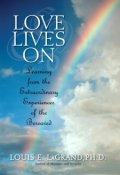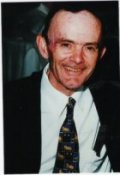 Recent Publications 2:
Love Lives On:
Learning from the Extraordinary Encounters of the Bereaved
by
Louis LaGrand

PF Lyceum Blog #16,
posted December 11th, 2006
Louis LaGrand, Ph.D.



Several books have been written addressing the variety of Extraordinary Experiences (EEs) reported by those who are mourning the death of a loved one. In addition, my three previous books on the subject have illustrated the fourteen different ways that mourners believe they have received a sign or message from their deceased loved ones or a divine being. However, none of the literature deals definitively with how these powerful experiences influence grief work, alter belief systems, and change the lives of those who choose to see the event as a gift of love to adapt to loss and reinvest in life.

Love Lives On is written specifically for anyone mourning the death of a loved one, their caregivers (family, friends, professionals, co-workers, etc.) as well as those interested in the kinds of unusual experiences that often accompany the grief process. It presents seven wisdom lessons for coping with loss and change drawn from the experiences of the bereaved. Nine proven survival skills (coping strategies) are integrated with the lessons to demonstrate how they can be incorporated into life and utilized in the process of adaptation.

Furthermore, the useful lessons that have been experienced by mourners need to be explored for their potential in helping others who must face similar losses and have not had an EE. Love Lives On fills this gap in the literature since there is so much untapped wisdom in the mystery of the extraordinary.

Many people who have lost a loved one through death have had the inexplicable feeling that the deceased was somehow present. This is normal for grieving individuals—and a sign that our loved ones expect the relationship to continue, albeit in a different form. Love Lives On shows how that goal can be accomplished. And although the physical presence of the loved one ends, emphasis is placed on the fact that the relationship never ends. Most importantly, establishing a new relationship with the deceased is one of the tasks of grieving, while learning to love in separation and to memorialize is both necessary and a healthy part of grief work.

Following is the Table of Contents.


Introduction: Seeds of Hope

Chapter 1: We Are Always in the Embrace of Mystery

THE WISDOM LESSONS

Chapter 2: Accept Death as a Door, Not a Wall

Chapter 3: What You Focus on Expands

Chapter 4: We Are Not Alone

Chapter 5: Action Heals

Chapter 6: Rebuild Your Inner Life

Chapter 7: Choose to Serve

Chapter 8: You Are Loved Forever

Appendix A Suggested Readings

Appendix B Nine Proven Survival Skills for Coping with Loss and Change

Appendix C Myths about Grief and Grief Work

Bibliography

The initial chapter highlights the integral role that mystery plays in life, that it has a specific purpose, often generates new beliefs, and suggests it can be relied on in times of great need. Each succeeding chapter then opens with a true encounter that has been shared with the author, describes the meaning implied by the experience, and follows with strategies to be employed in coping with the changes demanded by the loss of a loved one.

I've had the privilege to witness the results of many profound events that have brought comfort to grieving survivors. This book not only points out the crucial importance of mystery, but also the judicious use of symbol, ritual, and tradition—integral elements of our existence—that are commonly brushed aside and ignored in the incessant, infernal clamor of the twenty-first century.

From my perspective, Extraordinary Encounters clearly bring about healing and expanded consciousness for mourners; they tap into a multidimensional realm that has been victimized by the technological revolution. Time and again, in the face of wrenching change, Love Lives On shows how these experiences give meaning to life and death while counterbalancing the often held view that western culture is drifting toward disunity and a primarily physical orientation.

There are two major goals for this book: (1) to share the insights that can be gleaned from those who have had Extraordinary Encounters while mourning their deceased loved ones and (2) to urge the reader to use this inner wisdom and what it suggests as an assist to adapt to any loss or change, which may be encountered on their journey back to wholeness. The reader will discover how to develop a strong inner life, become aware of the powerful impact that love has on the coping process, learn to reinvest in a different world without the deceased, and find joy once again.

To the recipient of an Extraordinary Encounter, there is no doubt that it is the loved one or an Intelligent Power who has provided the riveting communication. Survivors are convinced that the deceased loved one still cares and is trying to assist in the arduous transition of recovery. The signs or visions encountered emerge unbidden from an enormous reservoir of wisdom and insight far beyond our earth-bound comprehension. In the midst of their welcome encounters, recipients are at a loss for words to describe the full impact of the experience.

Love Lives On also shows that one can forever love the deceased and yet begin the process of developing new routines and traditions, new friendships—a new life, and yet find wisdom and meaning in grieving. The bereaved can finally arrive at accepting their great loss, yet realize the many insights and blessings received from the beloved when alive and confidently carry them into the next chapter of their lives. Love always lives on.

For more information about Dr. LaGrand's work, click here.

For Dr. LaGrand's biography, click here.

***********
For the index of all previous blogs, click here.