Previous Library Fellows
About the 2008 Eileen J. Garrett Library Fellow, Drs. Wim Kramer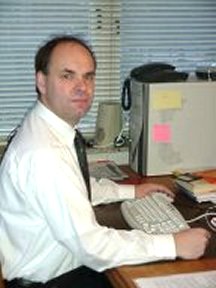 Kramer's objective for his week in residence in Greenport, New York, was to mine the Foundation's holdings for materials relevant to his on-going work on the history of parapsychology in the Netherlands.

Boasting a very rich history in psychical research and parapsychology, some aspects of the Netherland's history are well known to the field such as the Van Dam experiments conducted by Heymans in 1920, Dr. W. H. C. Tenhaeff's research on Dutch psychic Gerard Croiset between 1946 and 1980, and the experimental work carried out at the Parapsychology Laboratory in Utrecht from 1971 to 1989.

As is often the case, well-known aspects are only a small part of the story. Many — sometimes even very interesting — aspects of the history of parapsychology in The Netherlands have never been documented until recently.

In previous research, Kramer has been able to show that the first ever experimental laboratory of parapsychology operated in Amsterdam between 1906 and 1908 and was run by Mr. Floris Jansen. His laboratory research methodology was far ahead of his time and in some instances was sufficiently well-conducted so as to fulfil the standards of today.

In another project, Kramer was also able to reconstruct the rise in 1935 and fall in 1941 of the Parapsychology Laboratory of the Dutch Society for Psychical Research. This laboratory was also located in Amsterdam and was operated under the guidance of Dr. W. H. C. Tenhaeff. Some of the work conducted at the time was novel. An example is the EEG research conducted by Dr. Franke and published in mainstream medical journals.

A third interesting historical study in which Kramer has been engaged focuses on the life and works of Dr. E. A. Greven, the first official professor in Parapsychology in The Netherlands. Greven's name and professorship were deliberately left out of the historical record (a story in itself). Kramer was able to reconstruct Greven's life and works through intense historical research through old newspapers, various archives and in interviews.

Kramer's main research topic is, however, the life and works of Prof. Dr. W. H. C. Tenhaeff (1894–1981). Although his name is well known in the field and most elder statesmen and women have definite opinions about the man and his work, in fact, very little is actually known about Tenhaeff and his work. Even less is known about his once world-famous Institute of Parapsychology at Springweg 5 in Utrecht.

Tenhaeff was active in the field of Parapsychology for over sixty years, publishing over a dozen books and numerous articles, most of them in Dutch. A few of his titles were translated into either English, German or Italian. However, after Tenhaeff died and the University closed his institute in 1980, his staff destroyed all documents, correspondence and research files and sold off the library to a second-hand bookdealer. This tragic act makes the work of any historian interested in Tenhaeff extremely difficult.

Kramer, who is working on a dissertation on the Professor as well as a detailed bibliography of all his books and articles, has been forced to look for archival materials located elsewhere. Some of the materials are held by the Institut für Grenzegebiete der Parapsychologie und Psychohygiene in Freiburg and, Kramer hopes, more materials may be found in the archives of the Foundation. Because Tenhaeff was involved in the 1953 Parapsychology Foundation International Congress on Parapsychological Studies, it is likely that the Foundation's holdings will be very useful for Kramer. The Foundation looks forward to his tenure at the Library in Greenport.

Another activity that Kramer participated in, was the planning of Utrecht II: Charting the Future of Parapsychology, the conference that was held in Utrecht in mid-October 2008 thanks to the largess of the Het Johann Borgman Fonds, of whom Kramer is a representative. For a blog on the conference (which includes abstracts and powerpoints of the presentations, biographies of the participants, several galleries of photos taken during and after the conference, and a video taken by the PF's Film Archivist, Susan MacWilliam, of the standing ovation Lisette Coly received after her closing remarks) click here.




About the 2007 Eileen J. Garrett Library Fellow, Dr. Fotini Pallikari



Dr. Fotini Pallikari was this summer's Eileen J. Garrett Library Fellow. Dr. Pallikari, PF International Affiliate for Greece and University of Athens physicist,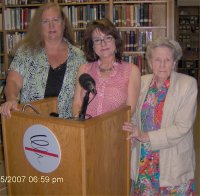 has been working on the papers of Greek naval hero, physician and psychical researcher Admiral Angelos Tanagras. She used her week in Greenport to make copies of materials available by and about Tanagras in our archives.

The Foundation staff enjoyed Dr. Pallikari's visit tremendously. Congratulations to Dr. Pallikari once again! (The photo to the left was taken in the Garrett Library before a Perspectives Lecture. At the podium are Lisette Coly, Executive Director of the Foundation, Dr. Pallikari, and Eileen Coly, the President of the Foundation.)

For those interested in Tanagras' work, the Foundation published his monograph entitled Psychophsycial Elements in Parapsychological Traditions in 1967. It is available for sale on Psi-Mart by clicking here.





About the 2006 Eileen J. Garrett Library Fellow, Sergio Schilling



Chilean psychologist Sergio Schilling obtained his BA in Human Sciences in 2003 from the Universidad Diego Portales, a Licentiate in psychology in 2005 from the Universidad Internacional SEK,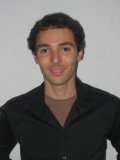 and completed a post-graduate specialization in clinical psychology and hypnotherapy at the Instituto Milton H. Erickson de Santiago in March of 2006.

As an undergraduate student, Schilling founded the the psi research unit at Diego Portales, the only such research group in Chile. Under Schilling's direction, the unit focuses on understanding the implications of experimental parapsychology through REG research, genetic research of psi experiencers, and the environmental factors that affect apparition experiences, among other approaches. The unit also engages in educational activities. A member of the Parapsychological Association, Schilling has received grants from that group as well as from the Parapsychology Foundation (he was the first winner of the Robert Coly Prize in 2004). He has also participated in a number of conferences and served as a consultant for local and international television shows. Currently he is working on the book series called Ciencia Limite (Boundaries of Science). The series offers a view of several scientific disciplines that investigate consciousness. Fifteen titles are planned, two have already been published: Lenguaje de La Noche edited by Stanley Krippner and Rosa Andwanter and El Poder Magico de Los Sueños written by Rosa Andwanter.

Because his planned November visit has to be postponed, Schilling was in residence at the Eileen J. Garrett Library in Greenport, New York, in January of 2007. While at the Library, Schilling used the library's collection to prepare a review article on possession. His interest in the topic stemmed from his investigation of possession and suicide among members of an aboriginal tribe he encountered in June of 2005 in Union Embrera Katio in northeast Columbia. In a previous study, Schilling compiled data on suicide attempts and completed suicides, especially among girls and young women between the ages of 9 and 20. The community explains the deaths as the result of possession experiences. Schilling began to suspect that psychological, psychiatric, and medical causes may underlie the suicide rate, which may also be exacerbated by social and political unrest in the area. Schilling was particularly interested in the Library's book and periodical holdings on psychiatric anthropology, abnormal psychology, genetics, general parapsychology, apparitions, poltergeist phenomena, and possession.