Previous Recipients of the Eileen Coly Grant for Research: 2007
Dr. Peter Bancel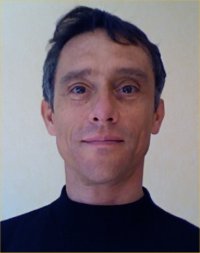 Dr. Peter Bancel was awarded the 2007 Coly Grant for Research. Currently residing in Paris, Dr. Bancel grew up outside of New York City in Rye, NY. Despite an early and sustained interest in the theater, he found himself unexpectedly drawn to science as he prepared for his university studies. "I found a copy of Scientific American at a friend's house when I was fifteen. Fascinated, I got myself a subscription as soon as I was could. It completely flipped things around for me to see that science isn't about what we know, but a way to look into things that we don't understand at all. I liked that game and I wanted in."

Bancel received a Bachelor's degree in physics from Bowdoin College and then worked for a year at Argonne National Laboratory, studying the transition to superconductivity in two-dimensional systems. He received a doctorate in physics from the University of Pennsylvania, supported in part by an IBM fellowshop. Dr. Bancel's thesis work focused on the use of x-ray and neutron scattering techniques to study the unusual symmetries in quasicrystalline systems (quasicrystals have atomic structure with the "impossible" symmetries of Penrose Tilings). After a post-doctoral appointment at IBM Watson Research Center, Bancel moved to France to the Centre d'Etudes de Chimie Métallurgique outside of Paris. Later he held a post at the Institut des Matériaux de Nantes were he developed laser seeding techniques for protein crystal growth using "optical tweezers."

Dr. Bancel became interested in parapsychology and psi research initially through a visit to Princeton, New Jersey where he meet Dr. Roger Nelson, the director of the Global Consciousness Project. After the terrorist attacks of September 11, 2001, Bancel became involved in data analysis for the project. He has worked on the analyses full-time since then and is the Chief Analyst for the GCP.

The Eileen Coly Grant for Research will fund part of the long-term program of data analysis for the GCP. The project hypothesizes that at the time of major world events, subtle deviations in random systems will correlate with the corresponding collective behavior in the affected populations. The substantial GCP database has, to date, yielded evidence at the 5-sigma level in favor of the general hypothesis.

Dr. Bancel's recent efforts have focused on understanding the considerable structural correlations present in the data. Structure relating to spatial, temporal and other factors has been found in several independent measures. It is hoped that these will form the basis of a working model, allowing for the assessment of theoretical foundations and the testing of refined hypotheses.

The specific aim of the research funded by the Coly Grant for Research is to study more closely the preliminary indications of temporal structure in the data correlations. The research undertaken by Dr. Bancel will apply notions of scaling in dynamical systems and time series analysis. In particular, he will employ the scaling index methods of Detrended Fluctuation Analysis to access indications of temporal fluctuations on the time scale of hours, which is thought to be particularly relevant to collective events of global significance.

For a biography of Dr. Bancel with links to a video lecture on the Global Consciousness Project, click here.

*******
Previous Recipients of the Eileen Coly Grant for Research: 2006
Prof. Etzel Cardeña

On September 1st, 2006, Dr. Etzel Cardeña was awarded the first Eileen Coly Grant for Research. The grant benefited Dr. Cardeña's post-graduate student, Devin Terhune. Both Dr. Cardeña and Terhune are past recipients of the Foundation's financial support programs: Cardeña received the 1985 Garrett Scholarship when he was still a post-graduate student. Devin Terhune was the first Tart Scholarly Incentive Award winner in 2002 and also received a General Scholarly Incentive Award in 2004.

The Recipient


A native of México, Prof. Cardeña was educated in his home country and in Canada before obtaining a Ph.D. in Psychology at the University of California, Davis, under the supervision of Charles Tart. Following his doctorate he held a number of academic appointments, including a visiting scholar position at Stanford University, a faculty appointment at Georgetown University, and a stint as Chair and Director of the Graduate Program at The University of Texas-Pan American. Most recently, he was appointed the first Thorsen Chair in Psychology at the University of Lund in Sweden with a remit that includes both parapsychology and hypnosis. Cardeña has published three books, including the edited volume, Varieties of Anomalous Experience published by the American Psychological Association, and 120 or so other publications. His areas of expertise include alterations of consciousness and anomalous experiences, dissociative reactions and disorders, and research on hypnosis. His empirical and theoretical work has garnered awards from various professional and academic institutions, and he has also worked professionally as a theater director and actor. For more information on Dr. Cardeña, his publications and the courses he teaches at Lund, click here.

The Research
The research Cardeña and his doctoral student, Devin Terhune, conducted at Lund centered on spontaneous mentation (thoughts) and responses to a standardized psi test as a function of hypnotizability, as part of a program of study evaluating the relationship between hypnotic conditions, hypnotic ability, and performance in psi tests.

After evaluating participants' hypnotic responsivity (hypnotizability) through standardized procedures, they planned to select at least 21 high and 14 low hypnotizable individuals and collect reports of what they were experiencing just before random prompts. The prompts and recordings were managed through personal digital assistants (PDAs) to obtain data on their stream of consciousness. Experience samples were solicited at five random times during normal waking hours each day. The participants' reports were analyzed quantitatively and qualitatively.

In the second stage, participants were asked to provide their mentation at their leisure, but preferably during non-distracted moments when they could use self-hypnosis, in response to a randomly-selected video clips being sent that day by a remote, self-hypnotized sender. They were asked to do this at least three times during the day for 10 different days and clips. For each clip, the participants and two "masked" judges with access to the participants' mentation rank ordered four clips, one of which would be the "target." Once the experiment was started, the senders did not interact with either participants or the researcher who were presenting the clips until the whole experiment was over, so as to avoid possible sensory leakages.

Cardeña and Terhune felt that this study could help clarify the relationship between hypnosis and psi by systematically evaluating hypnotizability and being able to evaluate the participant's baseline mentation when they are not "responding" to a psi test.

For a biography of Prof. Cardeña, click here.

For information about Prof. Cardeña's 1985 Eileen Garrett Scholarship, click here and scroll down.

For information about Devine Terhune's Tart Award, click here and scroll down.

For information about Devine Terhune's Scholarly Incentive Award, click here and scroll down.


**********

For more information on the Coly Grant for Research and how to apply, click here.

For more information on the individuals and grants awarded previously, click here.